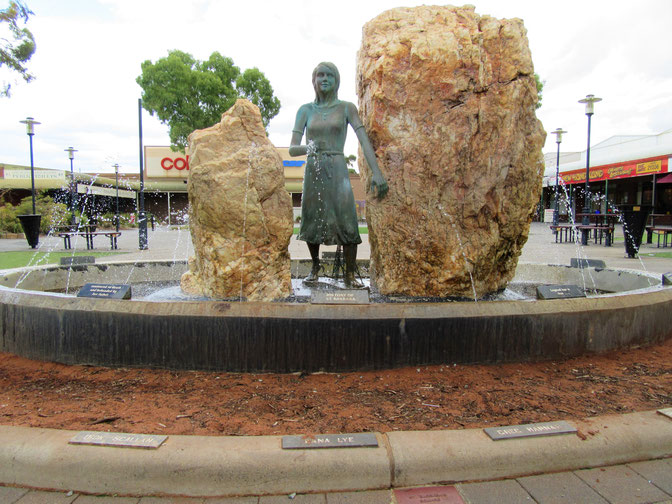 ---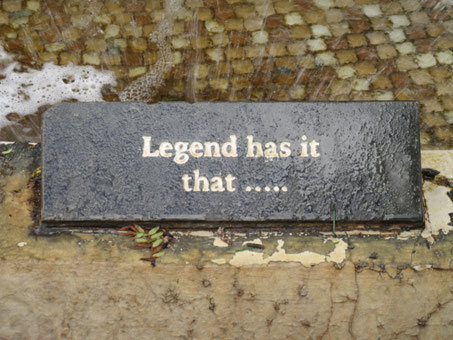 To "go down in history" is not an easy task. There are billions of people on this earth at this very moment and only a select few will be remembered 100, 500, 1000 years from now. Sure, records will be kept, and families will be able to construct their ancestry going back numerous generations. But to become a figure of history, a legend – someone who's name is common knowledge and who's deeds become household stories – is quite the accomplishment. So what does it take? Generally, it takes a mix of some history, a few facts, and a lot of good storytelling. One such story is that of Saint Barbara, patron saint of miners and artillery men.
The story of Saint Barbara and her martyrdom has been told in many ways by many different people, including the mining community of Kalgoorlie, Western Australia. In the middle of busy Hannan's Street [well, country town busy], just a little ways down from the court house and its gold-tipped clock tower, sits Saint Barbara Square. It is a small break in the long line of shops and buildings and of course, it's main feature is the St. Barbara fountain.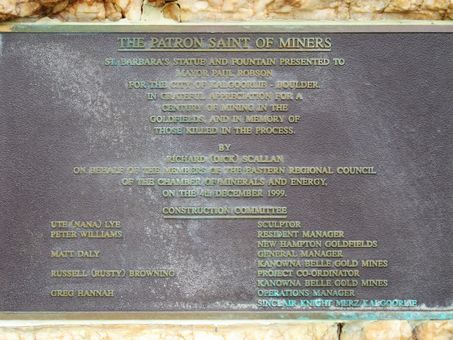 This monument was designed by Ute Lye and presented to the contemporary Kalgoorlie mayor, Paul Robson, on the 4th December 1999 by Richard Scallan and the Eastern Regional Council of The Chamber of Minerals and Energy (a very long title for a group that represents companies involved in collecting resources in Western Australia). The purpose of this monument was to celebrate 100 years of mining in the Goldfields and to commemorate the lives that had been lost to the mining industry. The names of those who worked on the monument are listed on a plaque affixed to the monument. 
The statue in Saint Barbara Square is one of a young woman standing barefoot in a plain dress with a tie around her waist, holding a plain chalice-style cup. On either side of her stands two large quartz blocks, symbols of the mining industry. The monument sits in the middle of a fountain, with shoots of water spraying towards it from the edges of the oval-shaped base. Surrounding the statue, around the edge of the fountain, are a number of small plaques that tell St. Barbara's story:
"Legend has it that…
St. Barbara was the Christian daughter of a heathen noble man who had promised her hand in marriage to a non-Christian suitor. She fled to hide in Mines underground. The Miners protected her and in return she passed on her Christian teachings. For two years she remained underground until shepherds informed her father of her whereabouts. Getting water, she was captured, sentenced to death and beheaded by her father."
[I guess this is why she's not the patron saint of shepherds.]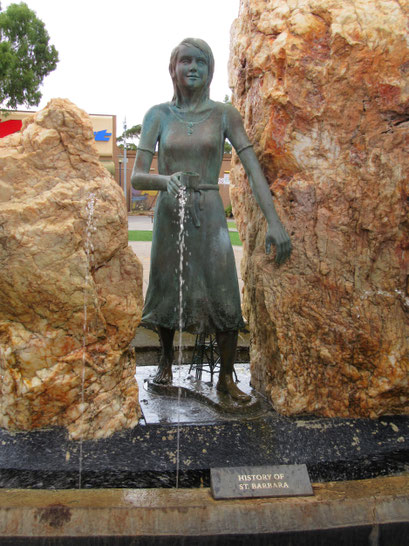 This is just one version of the story of Saint Barbara. The shared themes across most accounts are that she was a Christian daughter of a non-Christian noble, was promised to a man whom she did not want to marry and was executed by her own father. But many accounts tell of her faith being revealed when she requested a third window to be added to her father's plans for a bath house. This third window would be a reference to, and symbol of, the Holy Trinity [Father, Son and Holy Spirit]. And instead of fleeing, it is often told that she was captured and either tortured in an effort to turn her from this faith or given the choice to live as a pagan or die as a Christian. Obviously she chose the latter, granting her the status of "saint" by the Catholic church. After executing his daughter, the pagan father (Dioscorus) was struck down by lightening on his way home, an act of retribution from God. And so St. Barbara become the saint to call on during a storm and was taken up as a patron to those who work with explosions [i.e. miners and artillery persons].
The lack of credibility in the historical accounts of Saint Barbara's life and death led the Catholic church to pull her from the General Roman Calendar in 1969. [The General Roman Calendar is a liturgical calendar with all the days of the saints listed on it.] Though she is said to have died on 4 December [notice the date the statue was dedicated] sometime around 200-300 AD, the story of her martyrdom does not appear in Christian writings until the 7th Century AD, a good 300 or so years later. On top of this, her popularity and acclaim as a saint and martyr did not take hold until the 9th Century. But this affinity for the saint has since lived on in the lives of miners particularly. And though the authenticity of her story are greatly challenged, she continues to be remembered as a venerated saint and legend.
Bibliography
Johann Peter Kirsch, "St. Barbara," The Catholic Encyclopedia, Vol. 2. New York: Robert Appleton Company, 1907 http://www.newadvent.org/cathen/02284d.htm.
"Saint Barbara," Monument Australia, 2010-2018, <http://monumentaustralia.org.au/themes/technology/industry/display/60644-saint-barbara/photo/1>.
"Saint Barbara," NewWorld Encyclopedia, 2015, <http://www.newworldencyclopedia.org/entry/Saint_Barbara>.
"Saint Barbara, Christian Martyr," Encyclopedia Britannica, 2018, <https://www.britannica.com/biography/Saint-Barbara>.